what is the best black tea?
what an impossible question to answer!
At Clipper, we buy only the highest quality black tea directly from producers we know and trust. We like to think we know a thing or two about this particular area of expertise and have built up fantastic relationships with the world's best suppliers. All this in order to create the world's most delicious teas.
So of course we'd say that Clipper is undeniably the best black tea… but which Clipper black tea is the best of all? Now that's the tricky question.
our black tea selection
Plenty of people love black tea, but we know that everyone's tastes are different. That's why we've created a range of very distinctive Clipper black teas, which will take you on a taste adventure. Some may surprise, some may even convert you from your usual tea, but all are natural, fair and delicious. So, without further ado, allow us to introduce you to our black tea selection: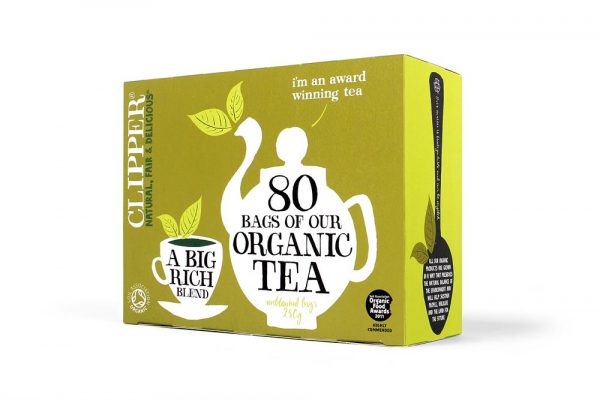 meet the smooth
and mighty one
It may be called 'Everyday' but don't let that deceive you. Our Organic Everyday tea is a deliciously smooth and full-bodied blend of quality black teas, sourced from the finest organic tea gardens.
meet the big
and bold one
In a box of our Fairtrade Everyday tea you'll discover a blend of the finest Fairtrade teas grown in the rich red soils of Africa and the fertile tea hills of India. Look forward to a full classic flavour and brightness in the cup.
meet the naturally
decaffeinated one
We've ditched the caffeine without compromising on flavour. Our Decaf Tea is a fine organic Assam tea, specially selected to retain a full flavour even after decaffeination. Of course as we are always natural, all our decaffeination happens without the use of chemicals.
meet the lively
and luxurious one
It may be called English Breakfast Tea but once you've tried it you may struggle to resist this one later in the day as well. Our extremely special blend of the finest organic Assam and Ceylon teas has a full, refreshing flavour that's welcome at any time of day.
meet the light
and citrusy one
If you like something a little bit different, the distinctive flavour of our Earl Grey could be the tea for you. A high quality tea which is both light and refreshing with the citrus flavour of bergamot. Delicious.
So, there you have it: our distinctive, delicious black tea blends. We couldn't possibly tell you which one is the best, that's entirely up to you! But, if you like the sound of these teas and are ready to give one a try, visit our product pages to find your perfect match.