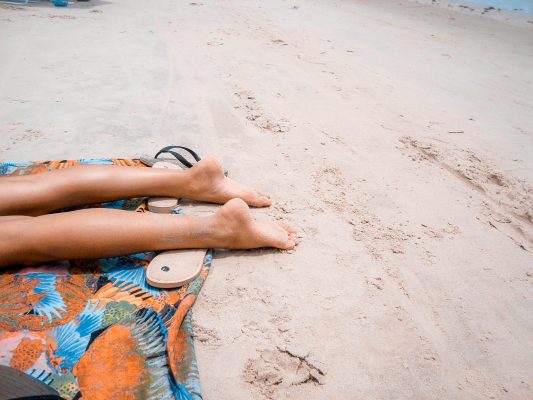 Now that Easter has been and gone, and we hold out hope that we're set for a long, warm summer, it's time to start thinking more about our skin. We don't mean doing whatever it is we all like to do in order to prepare our skin for being exposed to the world. (Although we always think the more natural, the better.) We mean sunscreen.
The sun's ultraviolet (UV) rays are obviously hotter and stronger during our summer months, as the sun moves closer to us in the Northern hemisphere. And whilst these rays feel nice, they're also damaging.
UVA and UVB rays penetrate the skin (UVA penetrates deeper than UVB) and both can cause ageing, burning and changes to our DNA and skin cells that can eventually result in skin cancer.
Any kind of tan, no matter how good it makes us feel, is actually skin damage. And whilst in the majority of cases, we won't develop skin cancer, 100,000 people in the UK each year do. The vast majority of skin cancers are caused by sun exposure.
So we need to be doing all we can to protect ourselves from the sun.
Sun Protection Tips
Be aware that the sun is at its strongest between 11am and 2pm
The sun's rays can penetrate cloud and it's still more than possible to get sunburnt on a cloudy day
Wear a hat to protect your scalp, hair and face
Wear good quality sunglasses that have the CE Mark and European Standard EN 1836:2005 quality markers
Wear sunscreen! Use at least an SPF 15 and look for brands with at least a 4-star UVA protection.
As a general rule, most adults require the equivalent of two tablespoons of sunscreen to cover their whole body. If you only need to cover your face, chest, neck and arms, two teaspoons should be enough. Ideally, you should apply it half an hour before going out, but later than that is better than none at all. Reapply if you're sweating a lot, swimming or you've dried yourself off with a towel.
We don't need to only apply sunscreen when we're on holiday either. Here in the UK, the sun can be just as strong as it is in sunny Spain. And it's not just for when we're sunbathing. If we're out and about, walking, working or sitting in the sun at lunch time, we still need to be protected.
A Kinder Type of Sunscreen
Many of us are concerned about the effects of sunscreen on both our bodies and the environment. Ingredients such as oxybenzone that are chemical sun blockers, have been linked with hormone disruption and fertility problems. Oxybenzone is also responsible for coral bleaching when it's washed off our bodies into the sea. The problem is so severe, that Hawaii has now banned the use of products containing this chemical.
But we have the answer! Mineral sunscreens such as those made by organic skincare brand JĀSÖN don't contain harsh chemicals, and instead contain mineral-based ingredients such as titanium dioxide and zinc oxide. These act as physical blockers to the sun's rays, making them a much kinder option to both us and Mother Nature.
Stock up today, and benefit your skin, your body and the planet. And enjoy the summer!
Other products you might like Aloe Pura with an Aloe Vera base.